Modern technologies stimulate web agencies to test limits, come up with ingenious and ambitious ideas and bring incredible concepts to life. The interactive websites are one of the fresh outcomes of pushing the boundaries. Interactivity, whether it's through hover states, audio or video media, sliding interactions, or even scroll events, help in adding a delightful layer of engagement a user experiences on a website. The sites listed below demonstrate great examples of interactive web design. It ranges from simple transition effect to complex 3D compositions, cool parallax scrolling or rich media presentation such as music audio and videos.
This is the best example of a business interactive website. The most astonishing thing is that before you enter the main menu bar, the screen box will follow your arrow right after you have accessed the website. This can be an inspiration, especially if you are nuts about business interactive websites.
This website is created in a logical way. You have to rollover the triangle shape to see the whole image within. When you click on the triangle shape, it turns into a circle.  Furthermore, there is a visible menu slide, which is pretty cool to apply for any menu button.
A cosmic theme meets automotive theme, giving the website an incredible futuristic vibe. Splendid illustrations are brought to life through modern techniques that strengthen the sense of interactivity and make visiting the site an unforgettable event.
This interactive walk through the city owes its powerful impression to a range of splendid panoramic images accompanied with proper sound. Users can easily move around the city, explore deserted streets, visit museums and take a look at popular landmarks.
A police cool site with Ajax and parallax scrolling.
Satorisan has a very nice shop design. The shop main page allows you to view all products in a scrollable/draggable horizontal list. Clicking on any product will transit to the product detail page with parallax scrolling effect.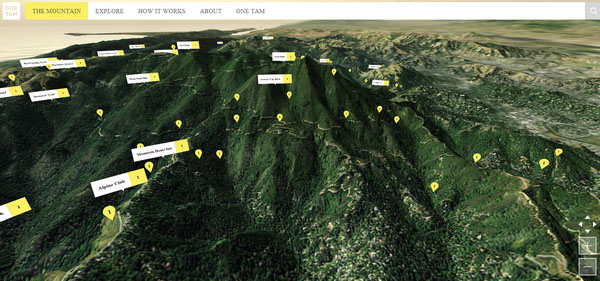 Our Tam is a small website that pursues a good purpose. It is to increase and spread environmental awareness concerning the Mount Tamalpais. The project draws the attention via a well-crafted interactive walk through the hills populated with the exciting stories, pictures and videos.